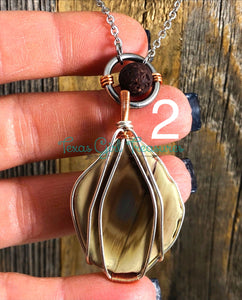 Jasper diffuser necklaces - Imperial
Beautiful Jaspers that are all unique.  Imperial Jasper is known as one of the 5 "fine" jasper  18" chain with a 2"-3" extender on the back.  
Imperial Jasper 2 - Freeform Jasper in Sterling silver with copper accents on stainless steel chain with accent bead.
Imperial Jasper Meaning:  Nurturing, Imparts Determination, Stimulates Imagination
Diffuser bead is located just above the wire wrapped pendant.  Apply a drop or two of your favorite essential oil on the bead and it will diffuse for 8-10 hours.  Once the smell dissipates, reapply the same scent or choose a different one. 
This necklace is handmade and unique.  I only have one of them.  If you have any questions or need adjustments on the item, please let me know.