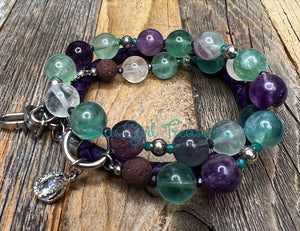 Fluorite leather wrap diffuser bracelet
Lovely Fluorite with colors of purples, greens and blues. A Rhinestone circle charm separates the leather from the beaded bracelet.

22" - 25" length. Silver Hook clasp
Fluorite meaning: Stabilizing, purifying, increases intuitive abilities
The bracelet is made with 5mm leather cord and fastened with a hook clasp with 2"-3" adjustable chain.  They are made to wrap 3 times around the wrist or be worn as a necklace with the leather laying on the nape of the neck.  The diffuser beads are located at each end of the beaded bracelet.  Apply a drop or two of your favorite essential oil on the bead and it will diffuse for 8-10 hours.  Once the smell dissipates, reapply the same scent or choose a different one. 
Size may vary based on small variations of bead size and the handmade nature of the item.