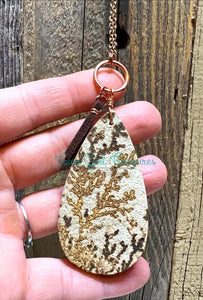 Dendritic Psilomelane Long Diffuser necklace
Earthy and Fern like Teardrop shaped Dendritic Psilomelane top hung in copper. On 33" Rose Gold Stainless steel chain.  Accent bead on chain. Leather tassel.
Meaning: Stone of encouragement, Deep Intuition, Drives away negative energy
Diffuser bead is located just above the wire wrapped pendant.  Apply a drop or two of your favorite essential oil on the bead and it will diffuse for 8-10 hours.  Once the smell dissipates, reapply the same scent or choose a different one. 
This necklace is handmade and unique.  I only have one of them.  If you have any questions or need adjustments on the item, please let me know.